Irving Scholars
Irving Scholars are selected on the basis of research proposals that reflect independent, well-developed scientific initiative in clinical investigation. The ranks of the scholars appointed since the program was launched in 1987 include physicians who have since become internationally recognized for their work.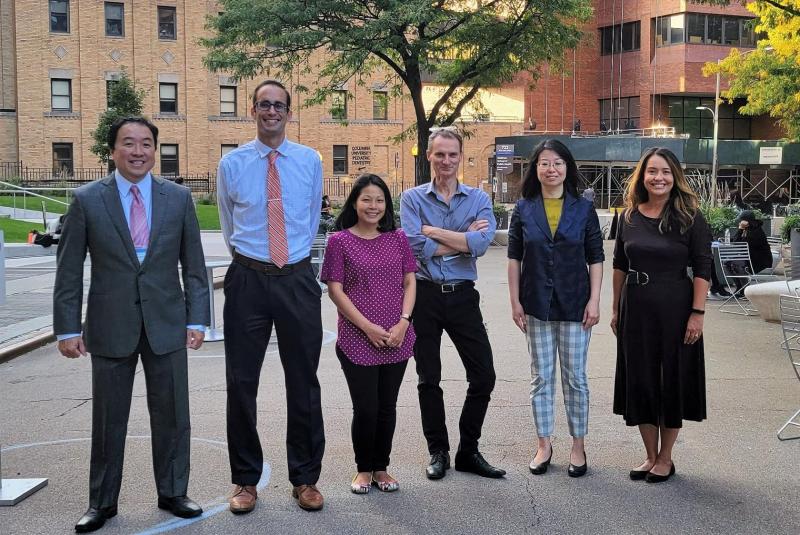 2021 - 2024 Irving Scholars with Irving Institute Leadership 
Elana J. Bernstein, Medicine
Vasculopathy, Inflammation, and Interstitial Lung Disease in Systemic Sclerosis
Kiran T. Thakur, Neurology
Longitudinal Impact of Stress on Systemic Inflammation and Neurocognitive Outcomes in Community-Dwelling Black and Hispanic/Latinx Survivors of SARS-CoV-2 Infection
Joshua Weiner, Surgery
Delayed donor bone marrow transplantation to facilitate prolonged mixed chimerism and tolerance after intestinal transplantation
Kelley Yan, Medicine
3D organoids to study the TCR reactome in human colorectal cancer
Marwah Abdalla, Medicine
Effect of a Personalized Sleep Extension Intervention on Home Blood Pressure & Circadian Rhythm Among Adults with Short Sleep Duration
Stephanie Lovinsky-Desir, Pediatrics and Environmental Health Sciences
Pollution and Lung health in Active Youth at Washington Heights Expeditionary Learning School (PLAY at WHEELS)
Katharina Schultebraucks, Emergency Medicine
Digital biomarkers as personalized predictive markers of accelerated aging in ED clinicians
Kazuki Sugahara, Surgery
A next generation tumor-penetrating cancer therapy
Keith Diaz, Medicine
Breaking Up Prolonged Sedentary Behavior to Improve Cardiometabolic Health: Investigating the Effectiveness of Resistance Exercises
May Hua, Anesthesiology
Palliative Care Effectiveness for Patients with Serious Illness
Jennifer Woo Baidal, Pediatrics
Expediting Efficacious Early Life Interventions to Prevent Childhood Obesity
Hanrui Zhang, Medicine
Targeting Macrophage Proliferation and Efferocytosis in Atherosclerosis
Jennifer E. Amengual, Medicine
Precision Targeting of HAT Enzymes to Activate Immune Surveillance
Brett Roméo Anderson, Pediatrics
Collaborative Capacity Building: Leveraging Medicaid Data to Improve Longitudinal Outcomes and Reduce Health Inequities for Congenital Heart Patients Across the Lifespan
Daniel E. Freedberg, Medicine
Decreasing healthcare-associated infections by preventing gastrointestinal pathogen colonization in the intensive care unit
David Kalfa, Surgery
An expandable polymeric valved conduit to repair congenital heart disease
Marisa N. Spann, Psychiatry
Establishing Early Brain Signatures associated with Maternal Immune Activation exposure in the fetal to infancy periods
Jose Gutierrez-Contreras, Neurology
Accelerated Non-Atherosclerotic Brain Arterial Aging Relationship to Alzheimer's Disease
Erin Heinzen Cox, Pathology and Cell Biology
Translating Post-Zygotically Acquired Mutations in a SLC35A2 into Disease Mechanisms in Epilepsy
Nathalie Moise, Medicine
Harnessing Precision Medicine and Implementation Science to Improve Psychological Distress Treatment in Breast Cancer Patients
Gissette Reyes-Soffer, Medicine
Unraveling the Complexities of Lipoprotein(a) in Humans Through Stable Isotope Metabolic Studies, Proteomics, and Particle Characterization
Emily Tsai, Medicine
Validation and Translation of a Novel Transcriptomic Signature of Right Ventricular Failure
Swarnali Acharyya, Pathology and Cell Biology
Diagnosing & Targeting Cachexia to prolong patient survival
Guillermo Horga, Psychiatry
Investigating the use of neuromelanin-sensitive MRI for risk staging of psychosis
Kevin Kalinsky, Medicine: Hematology and Oncology
Clinical Trial of Systems-biology Directed Therapy in Patients with Metastatic Triple Negative Breast Cancer
Max O'Donnell, Medicine: Pulmonary, Allergy, and Critical Care
A precision medicine approach to enhanced detection and genomic characterization of emerging respiratory pathogens in Uganda
Elizabeth Oelsner, Medicine: General Medicine
E-Cigarette effects on sputum biology: identifying extent and susceptibility in healthy adults
Yvonne Saenger, Medicine: Hematology and Oncology
Establishing a prognostic immune signature in early stage melanoma by measuring mRNA transcripts using the NanoString assay and quantitative multiplexed immuno-fluorescence
Matthew R. Baldwin, Medicine: Pulmonary, Allergy/Critical Care Medicine
Frailty Endotypes in Survivors of Acute Respiratory Failure
Olena Mamykina, Biomedical Informatics
Personalizing Behavioral Interventions in Type 2 Diabetes using Self-Monitoring Data
Martin Picard, Psychiatry: Behavioral Medicine
Profiling Mitochondrial Health to Understand Physiological Variability
Simone Sanna-Cherchi, Medicine: Nephrology
Genetic Studies in Posterior Urethral Valves
Annemieke de Jong, Dermatology
The Role of Skin Lipids as T Cell Antigens in the Immunopathogenesis of Atopic Dermatitis
Caleb Ing, Anesthesiology
Factors Contributing to Neurodevelopmental Deficit After Surgery and Anesthesia in Children
Ian M. Kronish, Medicine
Increasing the Precision of Hypertension Treatment Through N-of-1 Trials
Utpal Pajvani, Medicine
A Notch at the Bifurcation of NAFLD and NASH
Ali Jabari, Dermatology (2015-2017)
Longitudinal T Cell Receptor Repertoire Profiling in Patients with Alopecia Areata Treated with JAK Inhibitors
Fay Kastrinos, Medicine
Development and Validation of a Genetic Risk Assessment Model for the Identification of Individuals with a Hereditary Susceptibility to Pancreatic Cancer
Krzysztof Kiryluk, Medicine
Precision Genomics in Solid Organ Transplantation
Joanna Steinglass, Psychiatry
Neural Targets in Anorexia Nervosa: What Drives Food Choice?
Nicholas P. Tatonetti, Biomedical Informatics
Systems Pharmacology to Predict Adverse Drug Reactions
Siddhartha Mukherjee, Medicine: Oncology
Predicting the Responsiveness to a Novel Multi-Kinase Inhibitor in Patients with Low–Risk Myelodysplastic Syndrome
Carolyn Rodriguez, Psychiatry (2014-2015)
Mechanisms of a Novel Treatment Target for Mental Illness
Bret R. Rutherford, Psychiatry
Dopaminergic and Opioid Mechanisms of Placebo Effects in Major Depression
Anne-Catrin Uhlemann, Medicine: Infectious Diseases
Risk Factors for Carbapenemase‐Resistant Klebsiella Pneumonia Infection in Liver Transplant Patients
Julian Abrams, Medicine: Digestive and Liver Diseases
Risk Factors and Markers for Intestinal Metaplasia of the Gastric Cardia

Benjamin Lebwohl, Medicine: Digestive and Liver Diseases
The "Celiac Stomach": Gastric Environment and the Risk of Celiac Disease
Melissa S. Stockwell, Pediatrics and Population and Family Health
Comparative Effectiveness of Interactive, Health Literacy Promoting Text Messages on HPV Vaccine Completion In Minority Adolescents
June Wu, Surgery
Regulation of Adipogenesis and Vasculogenesis in Infantile Hemangiomas
Roy Alcalay, Neurology
The Role of Glucocerebrosidase in Parkinson Disease
Alex Dranovsky, Psychiatry
A Patient-Informed Approach for Developing Efficacious Antipsychotics
Andrew J. Einstein, Medicine
Reducing Radiation Dose from Coronary Computed Tomography Angiography Using Low-Voltage and Single-Heartbeat Volume Scanning
Andrew Moran, Medicine
Cost-effectiveness of Primary Cardiovascular Disease Prevention in U.S. Adults Based on 30-year Risk
Edward D. Huey, Psychiatry
Investigation of the Dopamine System in Frontotemporal Dementia

P. Christian Schulze, Medicine: Cardiology
Skeletal Muscle and Myocardial Lipotoxicity in Heart Failure

Marcella D. Walker, Medicine: Endocrinology
Cardiovascular Effects of Vitamin D Deficiency

Jason D. Wright, Obstetrics and Gynecology
Comparative Effectiveness of Minimally Invasive Oncologic Surgery
Hannah Wunsch, Anesthesiology and Epidemiology
Treatment Intensity and Outcomes for Critically Ill Patients
Michael T. Yin, Medicine: Infectious Diseases
Vitamin D: Effects on Bone Mass, Muscle Strength, and Immune Function in HIV-infected Women
Adi Cohen, Medicine
Do Premenopausal Women With Idiopathic Osteoporosis (IOP) Have Obese Bones?
Tiziano Colibazzi, Psychiatry
Anatomical Biomarkers of Conversion to Psychosis in Subjects at Risk For Schizophrenia
Srikala Raghavan, Dermatology
Effects of Bisphosphonates on Oral Wound Healing: Implications For Osteonecrosis of the Jaw
Nehal Vadhan, Psychiatry
Decision-Making and Reward Sensitivity in Cocaine Abusers: Relationship to Cocaine-Taking in the Laboratory
Chunhua Weng, Biomedical Informatics
Electronic Health Records-Based Clinical Research Support
Adam Brickman, Neurology
White Matter Hyperintensities in Cognitive Aging and Alzheimer's Disease
Katherine Crew, Medicine and Epidemiology
Chemopreventive and Anticancer Potential of Vitamin D and Rosemary on Breast Cancer
Thomas Nickolas, Medicine: Nephrology
Novel Tools for Assessing Bone Microstructure and Remodeling in Chronic Kidney Disease
Adam Ratner, Pediatrics: Infectious Diseases
Novel Approaches to Bacterial Vaginosis: Diagnostics and Risk Factors
Benjamin Spencer, Urology
Afro-Caribbean Men and Biochemical Recurrence of Prostate Cancer: The Hormonal Therapy Decision
Arianna L. Kim, Dermatology
The Role of SIRT1 in the Pathogenesis of Squamous Cell Carcinoma of the Skin
David J. Lederer, Medicine
Race, Society, and Biology in Pulmonary Fibrosis
Catherine E. Monk, Psychiatry
Biobehavioral Assessment of Stress During Pregnancy: Fetal and Newborn Outcomes
Mishaela R. Rubin, Medicine
Hypoparathyrodism: Circulating Osteoblast Precursors
Daichi Shimbo, Medicine
A Translational Study of Anger, Endothelial Cell Injury, and Oxidative Stress
Gloria H. Su, Otolaryngology
Novel Mutation Analysis Methods for PIK3CA in Clinical Application
Julia Glade Bender, Pediatrics
Clinical Development of VEGF Blocking Therapies of Pediatric Solid Tumors
Paolo C. Colombo, Medicine
Endothelial Oxidative Stress in Heart Failure
Saadi Ghatan, Neurological Surgery
A Novel Noninvasive Method to Evaluate the Epileptogenic Zone in Children
José A. Luchsinger, Medicine
Metformin in the Prevention of Cognitive Decline
Michael Chiang, Ophthalmology
Telemedical Diagnosis of Retinopathy of Prematurity

Cheryl Corcoran, Psychiatry
Stress Sensitivity in Schizophrenia and Its Prodrome
Karima Djabali, Dermatology
Determining the Role of Nuclear Lamins in Skin Aging
Dawn Hershman, Medicine
Multidisciplinary Studies in Breast Cancer Treatment-related Toxicity
Sanja Jelic, Medicine
Endothelial Cell Oxidative Stress in Obstructive Sleep Apnea
Andew K. Joe, Medicine
Intermediate Markers of In Vivo Biological Activity of the Potential Chemoprevention Compound Polyphenon E
Laurel Mayer, Psychiatry
Are Women with Anorexia Nervosa Metabolically Obese?
David Owens, Dermatology
Role of α6β4 integrin in Epidermal Squamous Cancer
R. Graham Barr, Medicine
Endothelial Dysfunction is a Novel Component of Chronic Obstructive Pulmonary Disease
Wendy Chung, Pediatrics
Molecular Genetics of Type 2 Diabetes Mellitus in Children
Pamela Flood, Anesthesiology
Nicotine: A Novel Analgesic Adjuvant for the Treatment of Postoperative Pain
Mathew Maurer, Medicine
Studies of the Pathophysiology of Diastolic Heart Failure
Guy McKhann, Neurological Surgery
Mechanisms of motor control: A combined fMRI and electrical stimulation study
Hina Chaudhry, Medicine
Cardiomyocyte Cell Cycle Control and Human Heart Failure
Ali Gharavi, Medicine
Genetic Studies of IgA Nephropathy

Shailendra Joshi, Anesthesiology
Intraarterial Vasodilator Therapy for Cerebral Vasospasm

Darrell Yamashiro, Pediatrics
Inhibition of Angiogenesis: Clinical Trial and Biologic Correlates
Gaetano Barile, Ophthalmology
Rage Blockade in the Treatment of Diabetic Retinopathy

Petra Kaufmann, Neurology
Cerebral Glucose Metabolism in MELAS: Implications for Pathogenesis

Steven Kawut, Medicine
Neurohormonal Activation in Pulmonary Hypertension
Judith Korner, Medicine
Targeting the Melancortin and Dopamine Pathways in Obese Non-diabetic Humans: Effects on Body Weight, Glucose and Lipid Metabolism
Michael Vitale, Orthopaedic Surgery
Quality of Life, Neurocognitive Function, and Burden of Care of Children with Neuromuscular Disorders: Development of a Multi-Disciplinary, Web-Based Registry
Jessica Kandel, Surgery
Inhibition of Angiogenesis: Clinical Trial and Biologic Correlates in Wilms Tumor
Diana Martinez, Psychiatry
PET Imaging of the Mu Opioid Receptor and Dopamine Function in Alcoholism
Yoshifuma Naka, Surgery
Evaluation and Creation of Minimally Invasive Surgical Techniques to Cure Atrial Fibrillation
Charles Powell, Medicine
Glypican 3: A Potential Lung Tumor Suppressor
Elliott Bennett-Guerrero, Anesthesiology
Julide Tok Celebi, Dermatology
Lawrence Kegeles, Psychiatry
Kyriakos Papadopoulos, Medicine
Tuan Vu, Neurology
Pamela Freda, Medicine
Rachel Miller, Medicine
Eric Rubin, Psychiatry
Scott Small, Neurology
Anissa Abi-Dargham, Psychiatry
Paula Annunziato, Pediatrics
E. Sander Connolly, Neurosurgery
Jean Ford, Medicine
Catherine Tuck, Medicine
Eric Collins, Psychiatry
Timothy Lynch, Neurology
Gwen Nichols, Medicine
Beth Printz, Pediatrics: Cardiology
Angela Christiano, Dermatology
Robert Fine, Medicine
Robin Goland, Medicine
Michio Hirano, Neurology
Daniel Bloomfield, Medicine
Eric Heyer, Anesthesiology
Paul Greene, Neurology
Steven Kaplan, Urology
Douglas Nordli, Neurology
Mehmet Oz, Surgery
Jonathan Aviv, Otolaryngology
Lars Berglund, Medicine
Evan Flatow, Orthopaedic Surgery
Cy Stein, Medicine
Brenda Mallory, Rehabilitation Medicine
Milton Packer, Medicine
Rosario Trifiletti, Neurology
Kirk Wilhelmsen, Neurology
Peter Shapiro, Psychiatry
Janet Prystowsky, Dermatology
Mark Scheuer, Neurology
Steven Shea, Medicine
Alison Estabrook, Surgery
Mary Sano, Neurology
Mitchell Benson, Urology
Joseph Herbert, Neurology
Robert Rees-Jones, Medicine
Vincent DeLeo, Dermatology
Fredi Kronenberg, Rehabilitation Medicine
Shonni Silverberg, Medicine